ChristianFilipina Review – Join If You Want to Find Someone Special!
Updated on: September 16th, 2023

Christian Filipina Review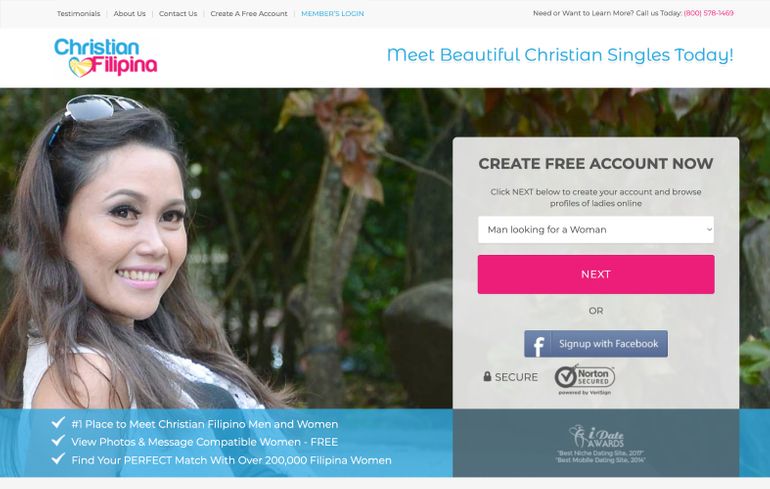 As you can get from the name of it, christianfilipina com is a niche site for Filipinos who share their beliefs. The site is not made for mindless swiping and casual dating; when you join, you confirm your will to find someone for serious relationships and are ready to settle down with the right person. There are a lot of sites that offer to flirt and have some no-strings-attached fun, but this one is different. Here, everything is made to help its users find love and get faithful partners to share their lives and religious views. Join if you are ready to look for that special one you can tie the knot with.
The site was created in 2009, and till then, it managed to attract an impressive number of users. You may check the Testimonials section to see that the site works great and can boast lots of happy members who managed to find their soulmates here. The platform has some recognition awards from the internet for being the best niche dating site and providing a dissent app. If you are still not convinced, read this Christian Filipina review and see if it is your best place to search for like-minded people.
Christian Filipina Audience
The site boasts more than one and a half million users worldwide, with approximately half of them being women. As you can see, men and women have equal chances here. Most of the users come from the USA, though they are native Filipinos. Everybody can join the site, but it's mostly crowded with people it was created for.
Religious views are important here, and if you don't belong to Christians, maybe you should look for your significant other somewhere else. Members here share Christian views on love, relationships, and marriage, so those who are just looking for a few casual dates don't belong here.
Registration process on Christian Filipina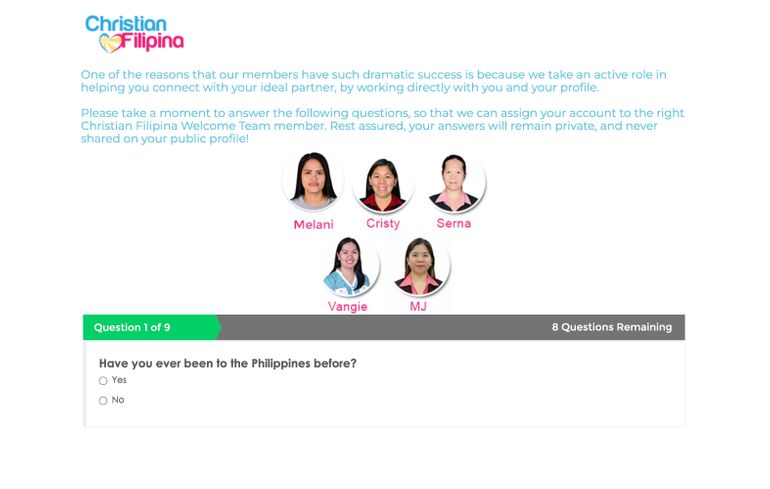 As an unregistered user, you don't have much to do on the site. You need to create an account to browse profiles and use the other features on the site. You may opt for registering via Facebook or create an account manually. The procedure for getting an account on Christian Filipina includes the following steps:
Select between two options and detect if you are a man looking for a woman or otherwise

Set the age range for people you want to meet

Set your birth date

Fill in your name and email address

Choose the password

Briefly describe yourself

Select your profile picture

Answer some questions from the site to help it match you better. The site offers you to choose whether you want to look for your special one all by yourself, or some assistance would be welcomed.

After you answer all the questions, an assistant will be provided for you to help in case you get confused on the site.

The last step is to fill in your phone number, and it's done.
As you can see, the registration here takes some time. Right after your account is created, you will get a welcome message from a staff member to encourage you to fill in your profile and offer some help. Now, being a registered user, you may look around and see how everything works.
Design and Usability on Christian Filipina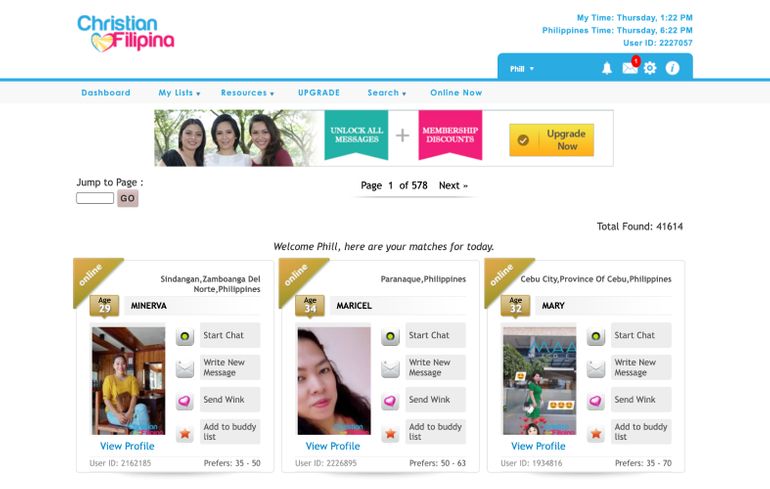 This part of our Christian Filipina dating site review is dedicated to the design and user-friendliness of the site. We need to mention that though everything looks quite pleasant, the design is pretty boring and has nothing to catch your eye. On the other side, excessive decoration is not needed here at all. The site was made for serious people and serious relationships, so it's simple and clear for you to focus on your purpose.
The Christian Filipina dating site is very easy to use. All features are at your fingertips, and nothing hinders your experience. If you are stuck at some point, reach for the help of the staff member who welcomed you to the site.
Pros and Cons
As for the pros and cons of the site, they are rather common, with nothing to highlight in particular. Nevertheless, let's name them.
Pros:
A well-tailored niche site that caters to a certain group of people

Christian Filipina dating site is suitable for finding a partner for a serious relationship

The support team is at your service right from the start

A significant number of satisfied users who managed to find their soulmates on the site
Cons:
The paid subscription starts at three months, and no trial is available

The registration process is a bit lengthy
Christian Filipina Features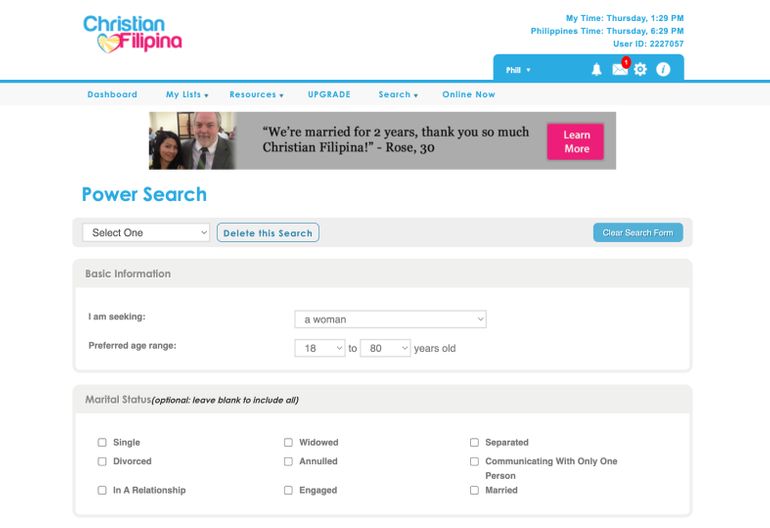 While composing this Christian Filipina review, we've found some special features you won't see on many dating sites. The platform really intends to help people find each other, and for users, who are not Filipinos, it has a section dedicated to overcoming cultural differences.
Filipino courtship
This section contains articles on how to build relationships with Filipinos, what would be welcomed, and what you need to pay attention to. This is a very helpful base of knowledge to assist anyone who is not familiar with the culture. Use it if you have doubts that you're doing everything right.
Second opinion
This feature is quite unique as well. If you think you've met the love of your life on the site and want to clear all doubts, ask for a second opinion from the site staff. This is especially important when you feel ready to travel to a new country to meet your love. When you request such a service, the site's staff member will contact your match to assess their intentions and values and report their opinion to you.
Advanced search
If you want to try and find your soulmate on the site all by yourself, you may use an advanced search tool to do this. Here, you may indicate a lot of traits your future partner should have, including their appearance in detail, whether they have or want children, what church they belong to exactly, and their age.
Christian Filipina Pricing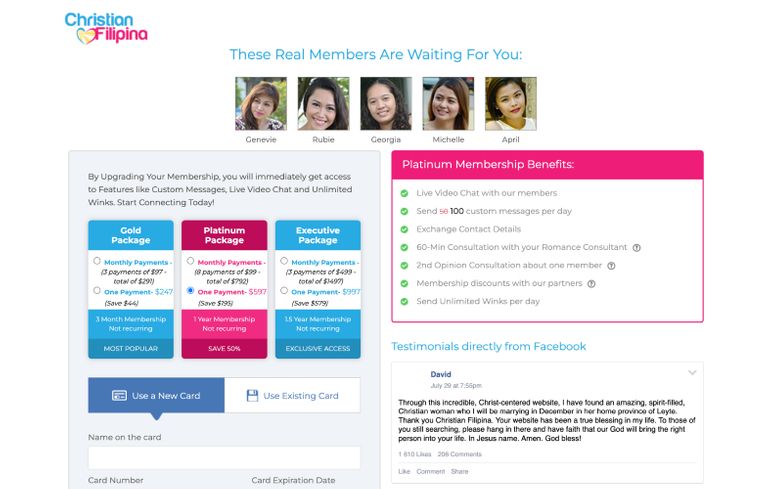 Many Christian Filipina reviews mention the minimum available plan duration being three months as a downside. However, it seems to be the intention of the creators to weed out users who are not taking it seriously. The site is not cheap but efficient, and if your intentions are well thought through, and you are ready to dedicate your time to finding a suitable partner, the prices won't stop you. So, let's see the paid plans on the Christian Filipina dating website.
Name of the plan

Duration

Monthly

payment ($)

One

payment ($)

Gold Package

3 months

97

247

Platinum Package

12 months

99

597

Executive Package

1.5 year

499

997
As you can see, the site is expensive and hardly suits you if you just want to have some fun.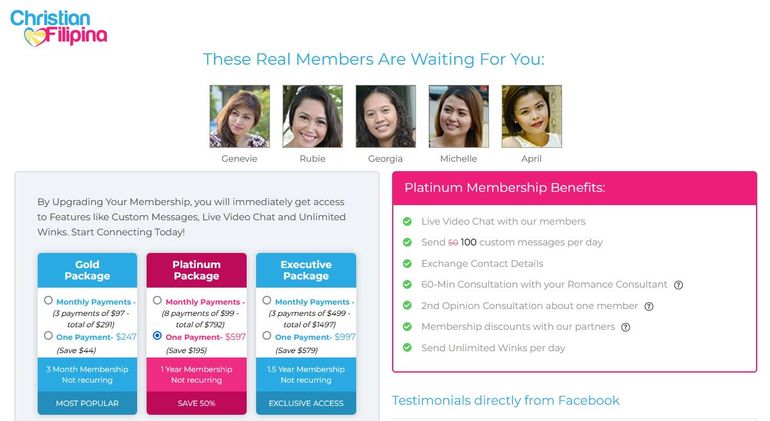 How Christian Filipina works
ChristianFilipina.com reviews agree that the site works well for its purpose. The design is uncluttered, the people are real, and the support team is very helpful. All you need to do is register, add some photos, fill in your profile, and start your search. If you're new to the dating world and don't believe you understand how to use the dating site correctly, you may mention it during the registration stage or ask for assistance later.
Christian Filipina Mobile App
There is the Christian Filipina app, and it even boasts the Best Mobile Dating App 2014 award. The application is available for both Android and iOS devices and is free to download from respective app stores. It has the same features the website has but is very popular with the younger audience. Though you may see some mentions of the app crashing from time to time, it seems like users love it nevertheless.
Privacy and Security on Christian Filipina
The site has a Privacy Statement tab, where everything regarding users' security on the site is well-explained. In a few words – you have nothing to worry about. The site is made for serious people, and it cares for its members a lot. Still, remember to keep your eyes open and remain unbiased, no matter how great your new acquaintance is. Don't follow suspicious links, and don't send money to people you've never met offline.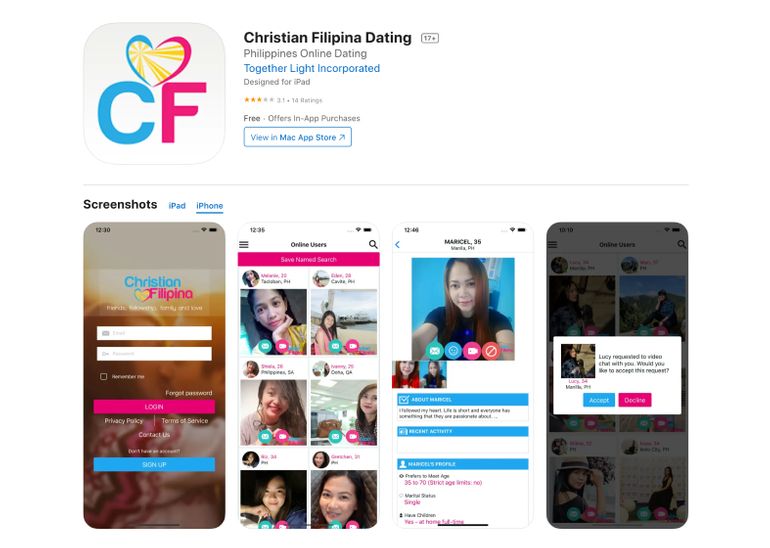 To help you not fall victim to scammers, the site's staff constantly monitors members' profiles and deletes suspicious ones. The users on the site are real people; there are no bots and spammers as the site pays attention to any undesirable activity.
Conclusion
Made to help people find each other and build serious relationships, the site does the job perfectly. You may browse the Testimonials section, which contains a lot of thankful users' feedback. This is a good place to search for your special one; right from the start, you will feel supported and be offered help. The site is not only a matching tool; it provides users with a lot of useful info to benefit from while looking for a partner. This is a decent site for every Christian who wants to find somebody to love and share values.
F.A.Q
Is Christian Filipina real?
The site is more than ten years old and works perfectly to satisfy its members' needs. A quick look at the profiles leaves no doubts that people are real here. No luring bots or fake profiles; the site is made for serious relationships and provides a great service.
Can I use Christian Filipina for free?
You may create an account and browse some profiles being a free user. To unlock the messaging feature, you need to buy a subscription, which is not cheap here. However, you get value for your money, as many positive statements from the site's users prove.
How can I pay for the services?
The site accepts payments made via bank cards.
How can I delete my profile from Christian Filipina?
You need to visit the Cancelation Page on the site and fill in the request to delete your profile.
Can I block someone on the site?
Yes, you may ban a user you're not comfortable with. Their profile will be displayed in the Banned Profiles section in case you change your mind.
Websites Like ChristianFilipina