SmokeAndPoke Website Review
Updated on: September 16th, 2023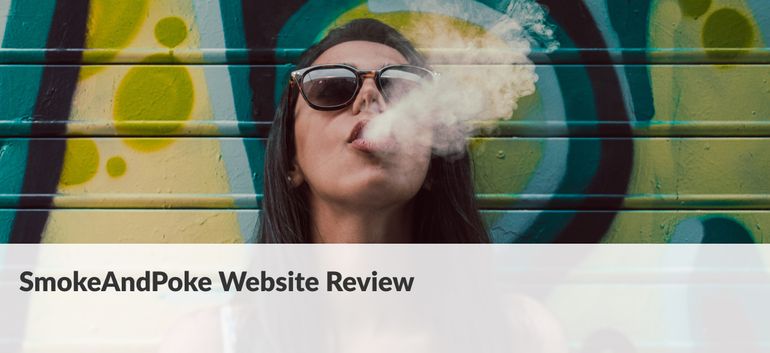 Niche dating sites have been quite a buzz over the last several years. Crowdy dating giants may offer you nothing, but disappointment, as swiping numerous profiles in the hope of meeting someone who shares your interests may be exhausting and useless. Why search on general services when you know exactly who you need? Or, in other words, what hobby you'd like to share with your dating partner.
In this review of SmokeAndPoke platform, we'll tell you everything you need to know before joining this exciting service, including special features of the site, the registration process, and the benefits you can get using it. Read further to decide if this is the right place for you to search for friends and dating partners.
First of all, let's see what the site is about. You can get the gist right from its name. The service intends to connect people who appreciate a certain kind of leisure and are eager to find like-minded cannabis admirers. The site would be perfect for you if you'd like to share the experience with those of similar inclinations. In general, the working of the service is no different as many dating sites offer, so you won't be startled by extremely complicated features. But before we proceed to the site exploring, let's see the pros and cons of it.
SmokeAndPoke Pros and Cons
Pros:
The design is easy on the eye and rather satisfying;

Easily the pioneer of the niche;

Straightforward operation and user-friendly interface;

Customer support 24/7.
Cons:
The application is only available as a web based app to download from the site.
Registration Process
You need to create an account and fill in your profile to start exploring the site and all the possibilities it grants you. The joining process is very simple and is possible to complete in 5 minutes or less. You only need to determine your gender, location, confirm that you're at least 18 years old, enter your email and password, and proceed to fill in your profile. Don't forget to use the confirmation link sent to your email to complete the creation of your account.
When the account is created, pay attention to your profile as it will present you to other users. You may do it yourself or use the help from the smokeandpoke website. In the menu, under your profile picture, you will see the Finish Profile tab. Here, 13 questions are available for you to answer. The questions are simple and casual, mostly related to what you're looking for on the site. Take some time to tick the right boxes, and your profile is good to go.
You need to upload at least one picture, and the site will constantly remind you to do it should you miss the step. When the bare minimum is done, you are able to explore the site.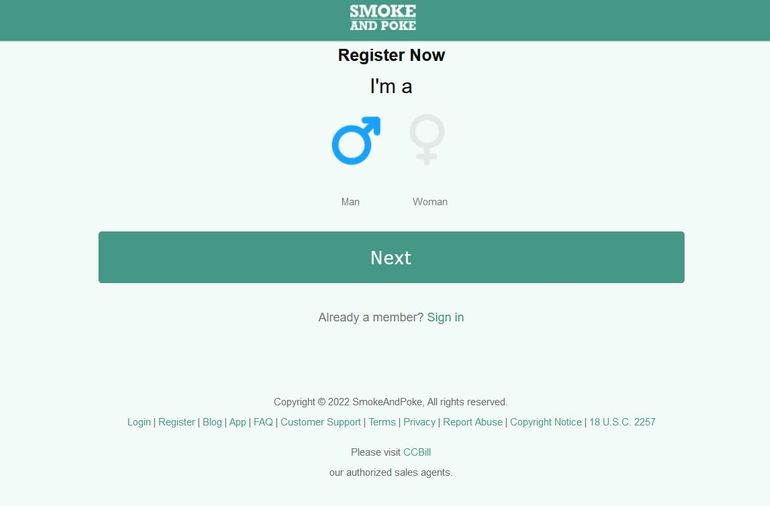 SmokeAndPoke dating site Design and Usability
The design of the site is very clean and simple. There's nothing too complicated, and the navigation is easy. You'll find all you need quickly, and considering a rather basic number of features, you won't need time to get accustomed to it.
SmokeAndPoke Features
We've got familiar with the site's functionality while preparing this Smoke And Poke review. It seems like the service has all that is required to quickly find new friends and dates. Let's see what the platform offers, starting with the most well-tailored feature:
Search
Under the Search tab in your profile, you'll find several options, and each of them is aimed to help you get what you want. You may browse through the profiles of those who are online, most popular profiles, new faces, or opt for those who've visited your profile. If these options are not enough for you, the Advanced Search tool is also available. It offers an itemized form that contains all you need to describe the desired person in detail. Search is very satisfying on the SmokeAndPoke site.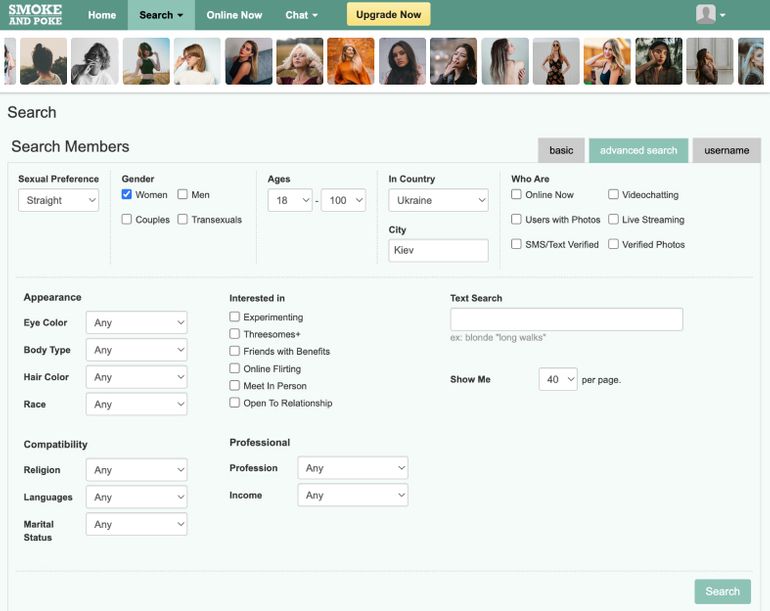 Match Game
This is designed to let you rate 10 users a day so that they notice your interest. This is quite an entertaining activity. Note that you need to add at least one picture to your profile to rate all ten of the offered profiles.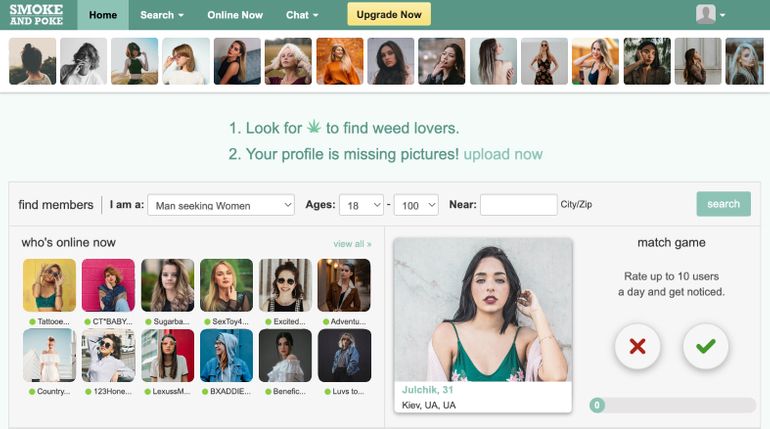 Photo and Video Galleries
Under the Trending Now tab, you'll find the Photo and Video tabs. There, some content from other users is offered to your attention, so if you're not ready to communicate just yet, you may spend some time browsing these sections.
Discrete Profile
This option allows you to hide your photos to be seen just by your friends on the site. If you worry about privacy issues, opt for this setting and only expose to those you find credible.
Mood Statuses
You can search for users by the status they set into their profiles. The options include Online Flirting, Meet in Person, and Serious Relationship.
Blog
Whether you're new to the world of weed lovers or are a proficient consumer, you may find a lot of useful info in the blog section. Does CBD increase libido? Is there a connection between smoking weed and your sex drive? Find the answers to these and other questions in the blog articles!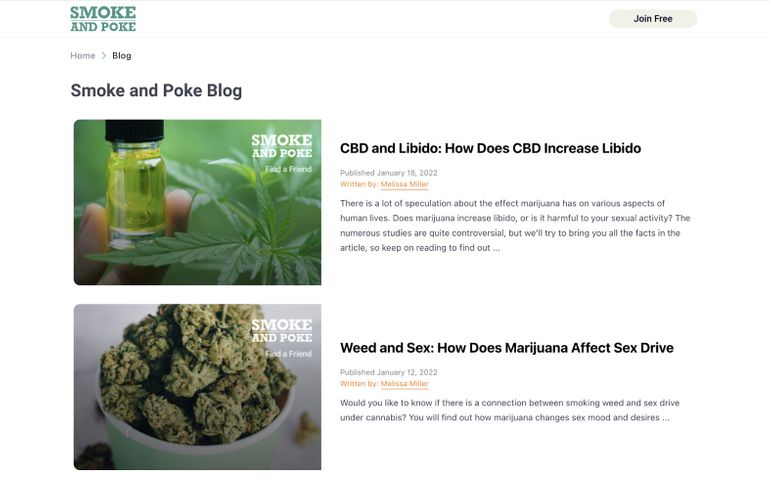 Membership Plans and Prices
The site hides some perks behind the paywall, so to use it to the fullest, you'll need to purchase a membership. The prices are relatively low, but the good news is there is a trial. You can pay $4.95 for 2 days or opt for a 7-day trial for $9.95. The trial gives you a chance to look around using the full pack of features to decide if you want to stay. Suppose your decision is positive; here are the prices for the various durations of Gold membership.
| | |
| --- | --- |
| Duration | Cost per month ($) |
| 1 month | 34.95 |
| 6 months | 11,65 |
| 12 months | 6,67 |
How Does SmokeAndPoke work?
As evident from this smokeandpoke.com dating site review, the working principles of the site are old but gold. You register an account, create your profile, and use the site's features to find like-minded users. All in all, it's a dating site aimed at connecting people. To succeed with getting new dates here, don't overlook the proper profile creation as it is a means of introduction to other users on the site. Use search to add suitable people to your Friends List, flirt online, or arrange offline meetings.
SmokeAndPoke Mobile App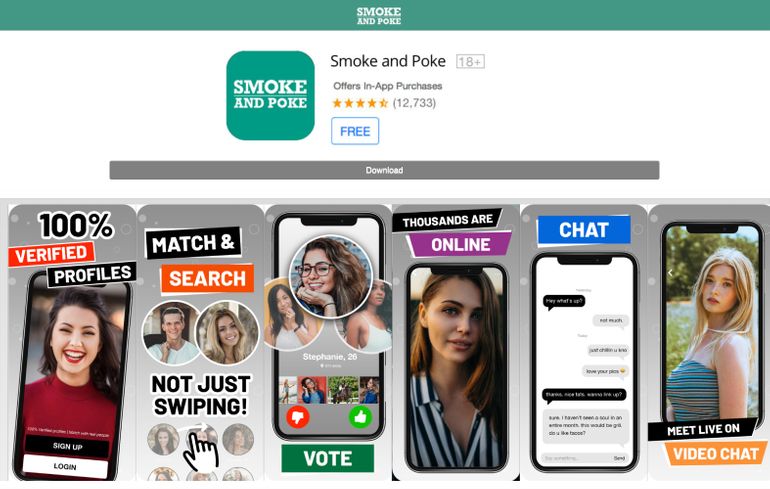 Smoke and poke casual dating service offers you an application, but for now, it's only available to download from the site. The app gets constant updates and is able to make your use of the service even more pleasant as you can use it on the go.
Websites Like Smoke And Poke