XPress Com Review: Make Your Dirtiest Dreams Come True!
Updated on: September 19th, 2023
XPress is an effective fast-track dating site for a prompt search for a casual hookup with a hot stranger. This is one of the cheating websites mostly used by married men or women that seek some fun and want to diversify their sex life and give some freshness to their marriages. But singles love to have fun here too!
What are the main features of XPress dating site?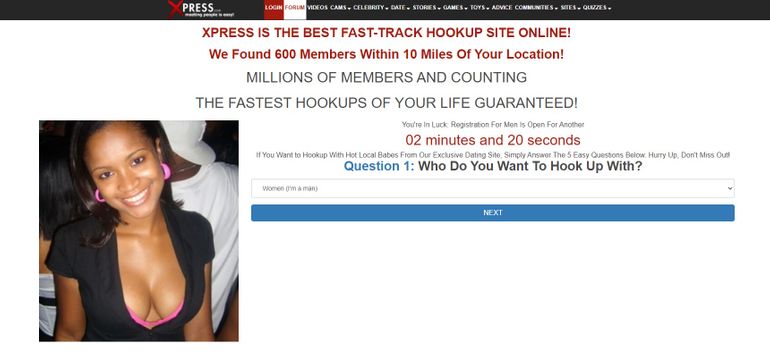 As soon as you register your account on XPress, you'll be redirected to the payment page. You can add your credit card details and use the website for free. No extra payments, accidental charges, or credit card fraud. This is necessary to make sure you're a real person over 18 years. If you get the free upgrade, here's what you'll be able to enjoy on XPress dating site:
Send and receive emails
Join Live Webcam Chat
Unlimited searches
Meet over 20K new visitors every day
View all profiles
Free cam shows
Full-sized pic view
Customer support
Access to members' videos
How much does XPress.com cost?
You can unlock the free website upgrade to enjoy all the XPress's tools. This feature is available for 24 hours. After this, you'll be automatically upgraded to the Platinum VIP subscription worth $49.95. You can use the free trial and cancel your subscription at any time, before or after you've been charged. You can also explore the website without adding your card details but the number of functions you can try out will be limited. For example, you'll be able to browse girls, look through the feed, see who's on cam now, and search for local chicks.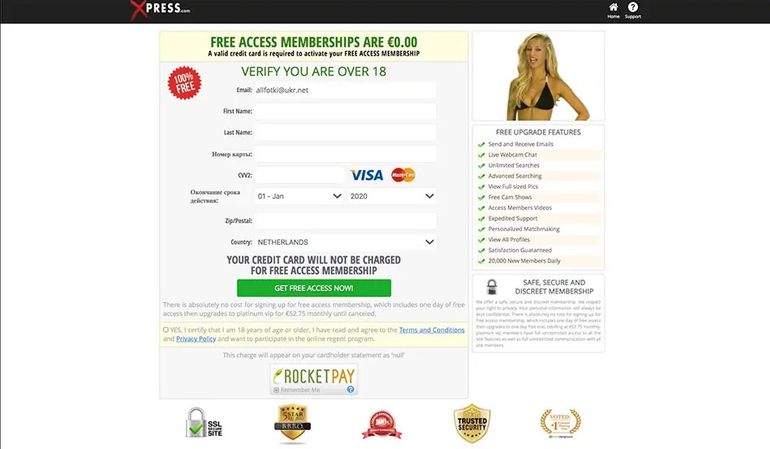 Pros and cons of XPress dating site
Pros
Easy registration
Huge number of users
Ethnic diversity of chicks
Date requests and arrangements
Webcam shows
Cons
Outdated interface
No mobile app
Credit card required to use a free trial
Extra features you can use on XPress.com
One of the interesting features you'll find on XPress com is adding some fun facts about you. In the "Edit My Profile section", you'll find different sections you can fill out without revealing any sensitive information about yourself. For example, you can tell users about your perfect evening, what other senses, except for touching, are important during sex, if you've ever faked an orgasm, your interests, fetishes, habits, and so on. This will help other users get to know you better and find a perfect match like you.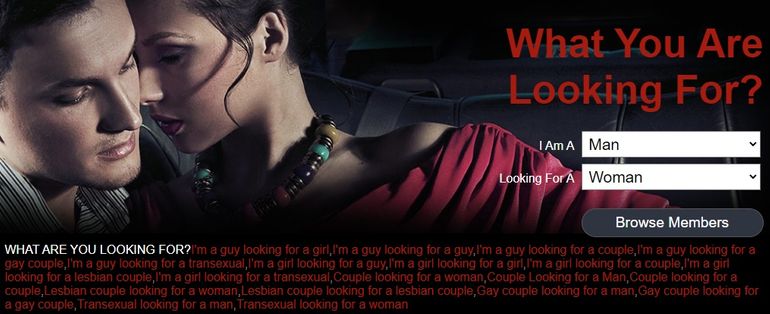 Key advantages of XPress dating site
What makes XPress stand out, and what are its main advantages as a cheater website? Below, you'll find the list of its key success aspects:
Usability. If you decided to get a paid membership, you'll enjoy an extended number of functions that'll simplify your search, let you join webcam shows, watch users' videos, and enjoy unlimited searches. XPress accounts for millions of active users, with thousands of new profiles being registered every day. The interface is well-groomed and easy to navigate, so you won't have any trouble finding a search bar, the Support team contacts, or your profile settings page.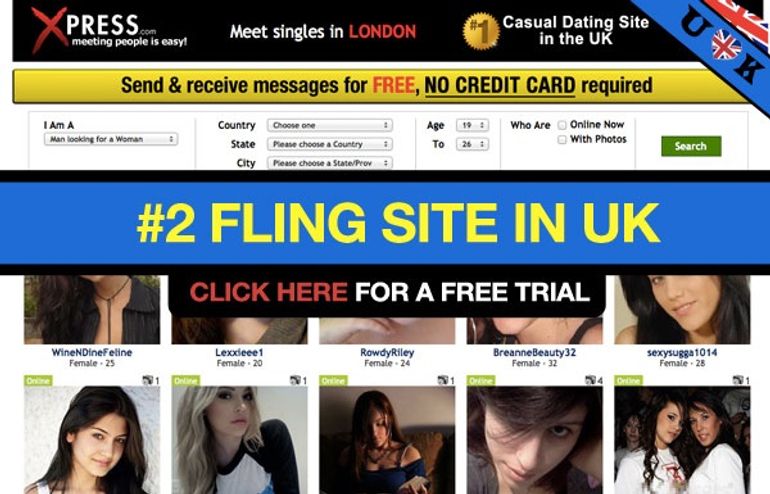 Profile quality. All users undergo profile verification that helps keep track of any scam or fraud taking place on the website. Plus, users can fill in any interesting information about themselves to make their user pages look more reliable and attractive. You can also define whether a profile is good to go by looking at the uploaded pictures (if there are any). A good way to identify a fake profile is the absence of any photos or uploading very low-quality, unclear images, which is quite rare on XPreass.com.
100% safety and anonymity. XPress.com assures full anonymity for its users. You don't need to fill in any sensitive detail about yourself like a phone number of a credit card account. XPress provides secure payments via the certified card providers. All transactions are SSL-secured and your payment history doesn't go to any third parties. In these terms, XPress is one of the most reliable cheater websites out there.
It may be hard sometimes to find a reliable cheaters website where you can remain 100% anonymous and enjoy high-quality profiles. That's where XPress comes in handy. This is a sleek, well-groomed platform where you can easily search for flings with a variety of functions like access to members' videos, unlimited searches, and Live Webcam chat. If you feel like trying XPress, you can access a free trial and use it at full capacity for 24 hours.
F.A.Q
Is XPress free?
Yes, you can use XPress for free if you enter your credit card details. Then, you'll get access to the Free Upgrade where you can enjoy all the functions at no cost for 24 hours. After this, you'll be upgraded to a Premium Membership unless you want to cancel it. You can also use the website for free without sending your credit card details but only as a viewer.
Is XPress.com safe?
Yes, XPress.com is an SSL secure website that processes your payments only via trusted card service providers like Visa and MasterCard. This means your payments and personal information are secure. Your profile can also remain 100% anonymous as you don't have to provide any sensitive personal information that can be used by hackers, you don't even need to upload your profile pic to use the website.
How many users does XPress.com have?
When you visit XPress com, you'll see a special status bar that shows you how many people are there now. Currently, over 60 million users are registered with the XPress dating site. Thousands of new users join the website every day so that there's never a lack of new users and there's a very little chance of you meeting the same girls in the feed twice.
How can I delete an account on XPress.com?
You can easily delete your XPress account by going to your Profile Settings. On the Menu bar on your left, find a Profile Settings icon, scroll down till you see a "Delete Profile" button. Click it. After doing this, all your information will be deleted, together with your messages, likes, and all the activity you were involved with.
Websites Like XPress