Is Fuck Me Dating Site Worth Your While? The Comprehensive Review
Updated on: November 15th, 2023
What's Fuck-me.io?
Fuck-me site is an online adult dating platform where you can find a partner (or partners) for occasional sex. No hard feelings or deep commitment involved. You only search for a random sex partner, have a fun night, and say goodbye to each other after all. Fuck-me.io helps you find the perfect match in a matter of a few minutes so that you'll never spend a single night alone again. It's quite minimalistic yet useful in terms of finding a casual sex partner. Fuck Me dating site helps you find chicks who live in your city and are hungry for some hot experience.
The main features of the Fuck-me site
Fuck-me is a minimalistic and sleek platform. It's not full of extra functions but still, all of them are quite useful. For example, you can use different search filters to pick the right chick for a one-night stand. Plus, you can text them, look through their profiles and photos, and simply play the match game before actually getting to know each other. The match game will show who you liked and who liked you so that you can see your own potential and how many girls are really active on the website. This matching system sends a notification to the girl which says you liked her photo or profile. After this, if she likes you back, she can reply to you and start a conversation, so this game is also a good icebreaker.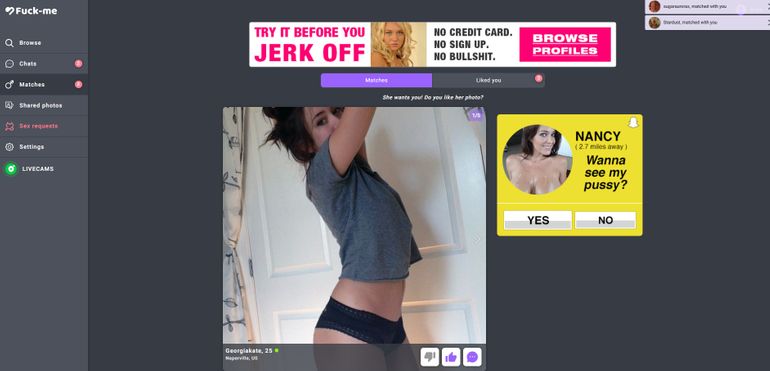 Another feature of Fuck-me site worth your attention a sex request that you can send only if you have a profile pic uploaded. So basically, it only takes one photo to get laid. Speaking of which, Fuck-me offers you to see only a part of the pics that each girl has uploaded. It's funny but if you want to access all the photos, you only need to ask the chick for that! There's this button "Ask the girl to share the photo" and voila, you got it in your "Shared Photos" section. Sounds like magic, right?
Search options on Fuck-me dating site
Fuck-me is probably one of the easiest and most convenient platforms to find girls for casual sex. Just imagine, it has a boob size filter! What can be better than that? Also, if you want narrower search results, you can choose the desired hair color, for example. But to find a really perfect match for a sex date, take a look at each girls' profiles. Look at their preferences in bed and whether she's a lesbian, trans, or bisexual.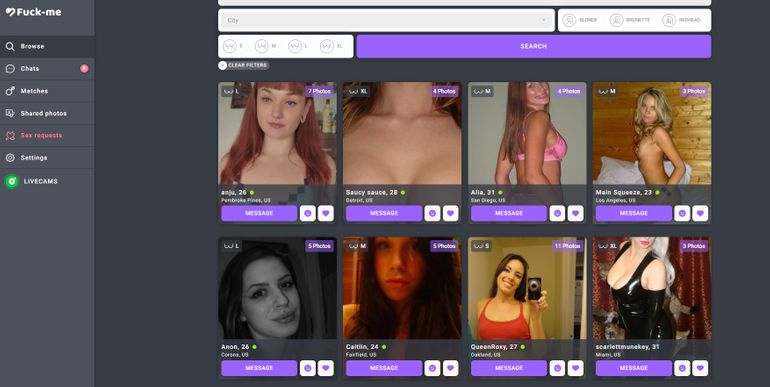 Usability of Fuck-me.io
One of the main perks of the Fuck-me site is that it's super easy to follow as all the necessary pages and buttons are conveniently located in one tab, and you can easily access any of them in just one click. There are no pop-up ads, messages, or reminders, and you can manage the notification flow in your profile settings. You can stop all the notifications, or choose whether you want to receive website updates, new messages or match notices, or email newsletters. And sure, on Fuck-me, you get full access to the user base as soon as you register, all the chicks are also shown in one place, with no hidden girls or extra charges to see more. It's all in the past now!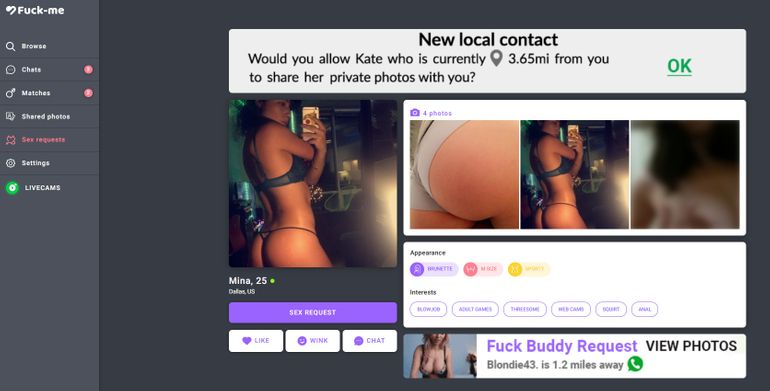 Is there a Fuck Me app?
For now, Fuck-me doesn't have a mobile app. If you desire to browse gals on the go and chat with them no matter where you are, feel free to use the mobile version of the site. It works as fast as the desktop version, and you won't even notice any difference.
Pros and cons of the Fuck-me site
Pros
Sleek interface
Free registration
Free communication tools
No extra payments
Cons
Limited search tools
Few communication tools
Fuck-me is a quite intuitive and convenient site for finding a casual sex partner. Here, you don't have to pay for anything or go through lots of annoying ads or long profile verification to find a perfect chick and get laid. Just upload your profile photo, so that girls know who's about to bang them, and you're ready to find a sex partner instantly. Feel a bit more hungry now? No wonder! Visit Fuck-me.io and find your perfect sex date at ease!
F.A.Q
How can I sign up for the Fuck-me.io website?
After you click on "Sign up", you'll only need to fill in your email, username, age, location, and create a password. After this, you can browse profiles, text hot gals, and upload your photos so that you can send sex requests to other users.
What payment methods does Fuck-me.io accept?
You don't have to pay for anything on Fuck-me.io. It allows you to browse chicks, communicate with them, and send sex requests absolutely for free which makes the website even easier and more pleasant to use.
How does the Fuck-me.io website work?
Fuck-me.io doesn't allow you to browse profiles without registration. After you've created a profile, you can use search filters or simply reach out to any girl you liked. You can text them, find a match in a dedicated section, or ask them to share hidden photos. All the actions on Fuck-me.io are free and don't require anything except for a created profile and your personal photo.
How to cancel my Fuck-me.io subscription?
You don't have to pay for any subscription. On Fuck-me.io, you can only deactivate your registered profile. To do so, go to the Settings section and scroll down the options until you see "Deactivate profile". After you clicked on this button, all your personal information, search history, and all other interactions with the profiles will be permanently removed from the website. Also, your profile will disappear from the search feed and nobody will see your user page again.