Is FuckBook A Real Hookup Site? The Revealing Truth
Updated on: November 24th, 2023
What is Fuckbook, and why use it?
A Fuckbook dating site is a fling-seeking platform for married and single people. Here, you can connect to local ladies and fulfill all your wildest dreams together. You can arrange an offline meeting or simply communicate online, share pics or send gifts to the chicks. The Fuckbook site also allows you to watch webcam performances on the website's native platform, enjoy VR shows, and try something new like adult games. You can use the site both for free and via the paid membership.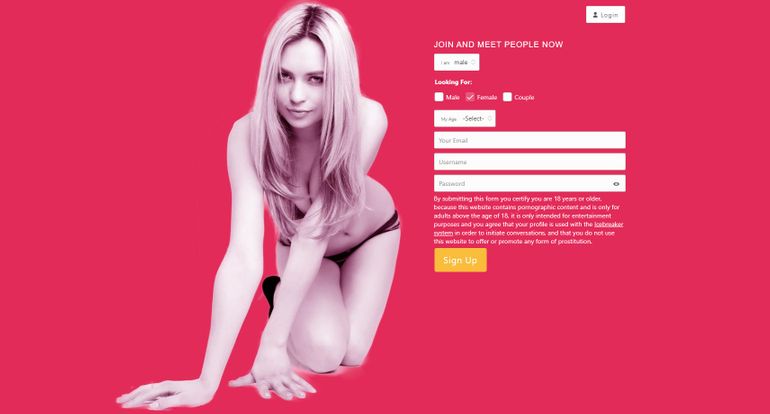 The main features of Fuckbook
Although Fuckbook is quite a minimalistic platform without many features, it has quite a good scope of useful options. For example, the search tool helps you find local sex (depending on your current location) or the ones who just registered on the website. You can also use search filters to make it more convenient. Plus, you can easily access any girl`s profile via the photostream on the main page. It`s like a newsfeed where you can see the newest pics uploaded by chicks and the comments left by other users.
If you like someone, you can add them to your Friends List if they accept your offer. You`ll also be able to see who wants to be your friend: there are popup windows that always keep you alert on who wants to have a fling with you. You can also send virtual gifts to the girls you liked the most (if you`re a Premium user), like, and comment on their pictures. Lastly, you can also enjoy alternative means of entertainment like webcam shows on a local Fuckbook site source or use VR glasses for visiting dedicated rooms and fully enjoy the whole process.
Usability
The Fuckbook site is easy to navigate and it`s got an intuitive interface. All the buttons and menu options are clear and perfectly visible. You can set up your search preferences, edit your profile, and manage your payments from just one menu bar on the left side of the screen. Browsing models is also pretty simple. As soon as you register, you`ll see the photostream with ladies` pictures and updates.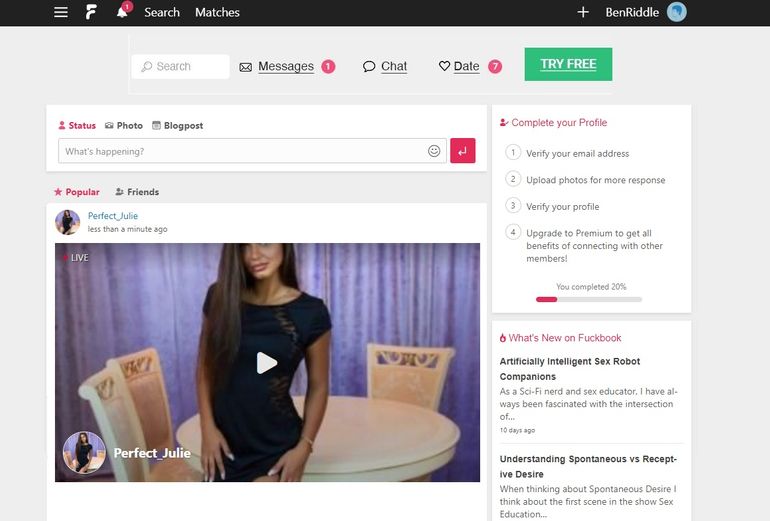 The difference between a paid and free version of Fuckbook
Using a free version of the Fuckbook dating site will help those who want to test the water, see what types of girls visit such websites and whether it`s a credible and useful platform in the first place. You`ll be able to set up a profile and browse chicks, but you can`t see their messages when they text. Getting a paid subscription will work for those who`d love to use the website on a constant basis and often chat with girls. On the Fuckbook site, your Premium paid package will include limitless gifts and texts, a Premium badge and Karma Boost, the ability to reply to the girls, and access to the Icebreaker feature.
There are only 2 different Fuckbook cost options:
Monthly payment — $29.95/month (billed $29.95 every 30 days)
Quarterly payment — $14.95/month (billed $44.85 every 90 days)

Fuckbook is a website with a great usability and a variety of useful functions that`ll help you find a casual fling in no time. It`s easy to use and offers only the most essential features to make your search way faster and more effective. You can try the website for free if you want to test it first, so there won`t be any need to pay for something in the first place. Try Fuckbook and start searching for flings with ease!
F.A.Q
Is Fuckbook free?
You can use Fuckbook for free but with limited opportunities. You can sign up and set up your profile, search chicks, see their photos on a dashboard, add new friends, and see who viewed your profile. If you want to chat with the girls, see their messages, and limitlessly reply to them, you`ll need to upgrade your profile to a Premium one.
How can you get a premium Fuckbook account?
As soon as you register your account, you`ll get instant access to the toolbar where you can upgrade your account to Premium. On the left side of the screen, click on the menu and then select "Premium Upgrade". You`ll be offered a monthly or quarterly type of subscription. Choose the most suitable option and pay for it. You can use a credit card or an ACH (a check).
Is Fuckbook safe?
Yes. On Fuckbook, you don`t need to specify any sensitive information about yourself, you don`t even have to upload a profile picture to protect yourself as much as you can. Plus, all your payments are processed by the most well-known credit card providers like Visa, MasterCard, etc, and you can only let the system remember your credit card information on your own by ticking the respective box.
How can you broadcast on Fuckbook?
To broadcast on Fuckbook, you`ll need to register your Fuckbook profile. Go to the left menu bar on the main page and click on the "Live Cams" button. You`ll be redirected to the FuckBookShows website where there are solely webcam models` performances. You can easily get a free account there and start real-life broadcasting from the bedroom or bathroom and show girls everything you have!
How to find someone on Fuckbook?
As soon as you set up your account, you`ll be able to browse Fuckbook profiles. You can scroll through the dashboard that shows you the latest updates from the website users or click on the "Search" button in the top left corner and see all the suggestions. You can sort girls by your location, those who were recently online, and the newest members. You can also search ladies by photos, pinboards, or blogs.
How to remove a Fuckbook account?
If you want to permanently delete your Fuckbook account, go to the main menu and scroll down to the Account option. Click on it and you`ll see all your profile settings. In the top right corner, there will be a small window for deleting your account. Enter the captcha you see on the screen and click on "Delete My Profile". After this, no data will be restored, and you won`t be able to cancel your membership.