Tinder Review - Can It Be Called the Best Dating App?

Pros and Cons of Tinder
Pros
Huge user base worldwide
Quick and easy registration process
Good for people both looking for serious connections and quick hookups
Multiple positive Tinder dating app reviews
Cons
Tricky pricing policy for people above 30
Very brief profile information
No manual profile search

Registration Process
According to Tinder dating site reviews, it differs with its simple and user-friendly registration process. There are three ways to register: with your Facebook or Google account or phone number. You can do it using the website version or mobile app, available for both iOS and Android users. If you choose Facebook registration, Tinder will extract all necessary profile information automatically. Don't worry; you can edit this information later through the settings. In another case, you will have to fill in your profile manually, e.g., specify your name, age, gender, short bio, and upload the photos.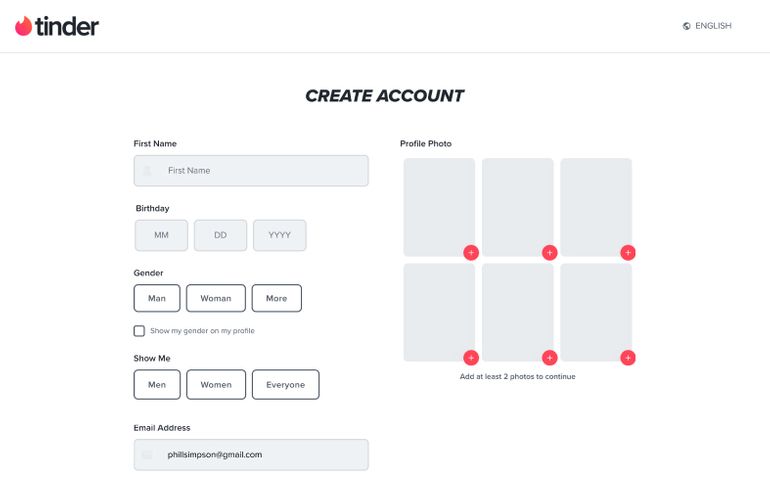 Tinder Interface, Website Design & Usability
Our Tinder.com review discovered that one of the things that made Tinder one of the most popular dating platforms is its neat and user-friendly design. Its main distinguishing swipe feature makes Tinder a perfect choice for people on the go. The site and app use vivid and eye-pleasing white, pink and purple colors. You can also connect your Tinder account to the Spotify account and choose an "anthem" for your profile – your favorite song, which people will hear when swiping to your page.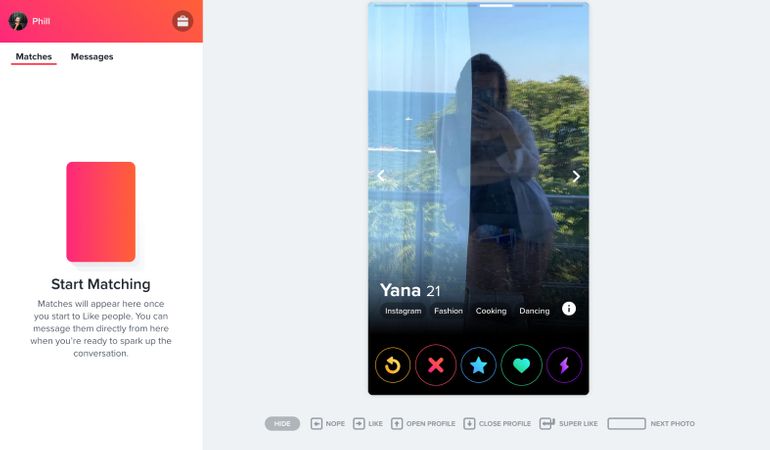 Special Features of Tinder
For its 10 years on the market, the Tinder team developed a whole set of cool features to use. They are:
Boost – This feature will bring you to the top of the search for 30 minutes, which will significantly increase your chances to get a match;
SuperLike – If you give someone the SuperLike this will indicate your special intentions towards this person, as they will receive a notification about your SuperLike;
Rewind – If you accidentally swiped left someone you like, you can use this feature to undo your mistake;
Traveler Alert – Tinder established itself as an LGBTQ-friendly network, which is proved by many Tinder com reviews. Members who use the Traveler Alert function will be warned if they go to a location where the LGBTQ community may be discriminated against. This notification appears on the app, and the member can choose whether or not to hide their Tinder profile during their visit to that location. If a member decides to stay visible on Tinder, details like sexual orientation and gender identity will not be revealed until they leave the region;
Tinder U – This feature was made especially for students. When you use it, you can show your school colors and swipe exclusively among the members of your campus or the campuses of other schools;
AYS? - AYS, or Are You Sure, is a new feature that helps you watch your behavior to stay polite while communicating on Tinder. When AI sees the traces of offensive language in your messages, it warns you about it.

Tinder Pricing Policy
Members can use Tinder for free but to a limited extent. You can use 100 swipes per day, geolocation feature, and write messages to the matched profiles; that's it. If you want to enjoy the whole range of cool features and increase your chances of getting successful matches, you will have to spend some dimes. Tinder Platinum review showed that it's the most profitable membership option.
Tinder Gold under 28

1 Month

14.99 USD / Month

14.99 USD

6 Months

8.83 USD / Month

52.99 USD

12 Months

6.92 USD / Month

82.99 USD

Tinder Gold over 28

1 Month

29.99 USD / Month

29.99 USD

6 Months

18.83 USD / Month

112.99 USD

12 Months

12.50 USD / Month

149.99 USD

Tinder Plus under 28

1 Month

9.99 USD / Month

9.99 USD

6 Months

5.83 USD / Month

34.99 USD

12 Months

4.58 USD / Month

54.99 USD

Tinder Plus over 28

1 Month

19.99 USD / Month

19.99 USD

6 Months

10.00 USD / Month

60.00 USD

12 Months

6.67 USD / Month

80.00 USD

Tinder Platinum under 28

1 Month

14.32 USD / Month

14.32 USD

6 Months

8.35 USD / Month

50.10 USD

12 Months

5.97 USD / Month

71.64 USD

Tinder Platinum over 28

1 Month

17.99 USD / Month

17.99 USD

6 Months

10.50 USD / Month

63.00 USD

12 Months

7.50 USD / Month

90.00 USD
However, after multiple users' complaints, Tinder started the changing campaign to equate the prices for people of all ages.
Tinder Mobile App
This review of Tinder revealed that most Tinder members use it on their phones, as it's more convenient, and the app's design looks better than the web version. The swipe feature is best to use in the app version; also, it allows you to connect your Spotify, Snapchat, and Instagram account. Tinder app is free to download from Google Play Market and App Store. For Windows OS users, it's necessary to download a third-party app 6tin, as Tinder itself is unavailable on Windows Store.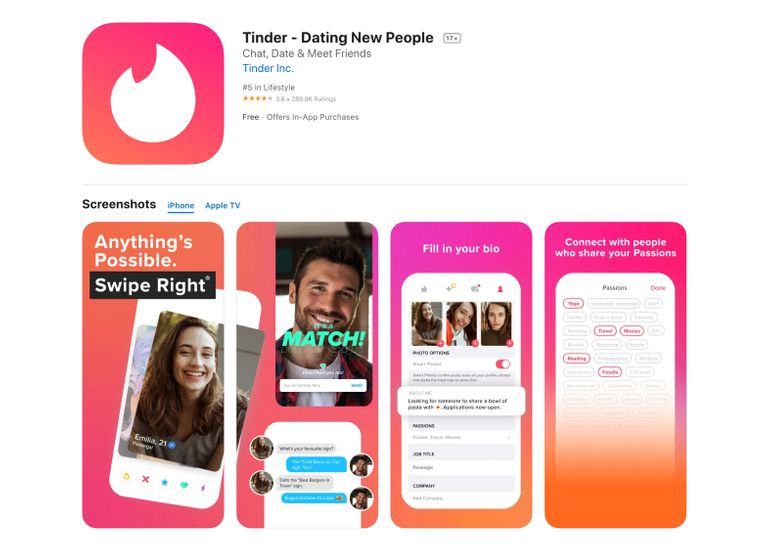 Privacy and Security
Most security issues lie on the shoulders of the users themselves. As we mentioned above, you can connect your social media accounts to the Tinder profile, which is not too good in terms of cyber safety. Even having your Instagram pictures, scammers can find you and try to cyberbully or blackmail you. So, you have to be careful with what you share in your profile and during the communication itself.
Tinder has a special Block Phone Number feature that allows you not just block a certain profile. Even if this person creates a new one with the same number, the app won't let them match with you again. Also, you can report abusive members to the Tinder support team.

How Does Tinder Work?
As previously stated, the Tinder App works by swiping right or left to like or dislike someone. The software uses the user's current location to display the profiles of people in the area. When you first launch the app, you'll see a notice that says "finding people nearby." The program searches for a few seconds depending on your location, before displaying the profiles. By swiping right on any profile you find interesting, you can like it. If that's not the case, swipe left. It's a match when someone you like reciprocates your feelings. Then you can send the message by going to the message tab.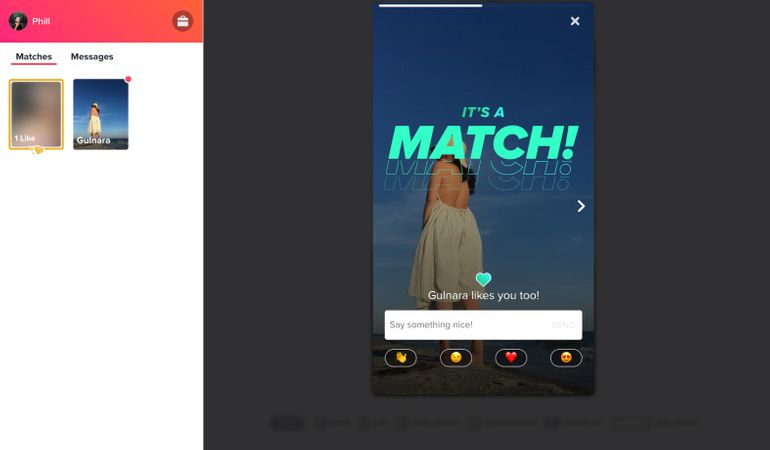 Websites Like Tinder