WellHello Review – Join the Site for Dating and Fun!
Updated on: September 24th, 2023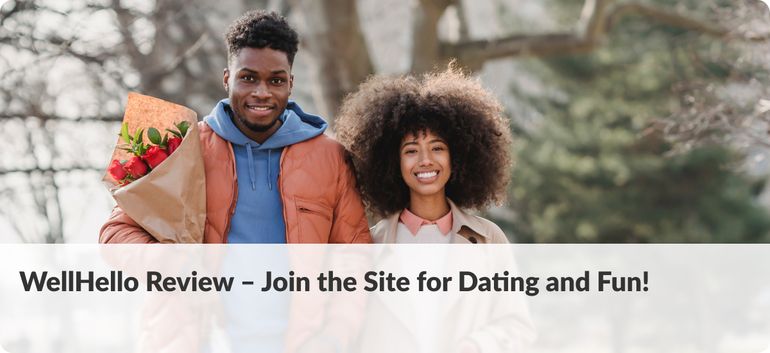 WellHello Review
In the modern world, you can find a dating site to match any taste and life views. Whether you are a Christian, vegan, anime lover, gamer, or fetishist, there is a place for you online. Some of them are rather specific, and others are more general to cater to most people's desire to find someone to have a good time with. WellHello is one of such sites dedicated to anyone who is looking for casual dates and easy hookups, and if you want just that, don't hesitate and try the site to get what you want.
The site is made for open-minded adults who are not scared of sexual experiments, trying something new, and living their life to the fullest. WellHello welcomes singles as well as couples and does not limit its users in expressing their sexuality as they wish. You will get in the right mood the moment you join the site, as many seductive photos will be shown to you at once. Register, customize your profile, and join the pool of friendly people to find new friends and dates.
However, is wellhello legit? To answer this question, let's go further and see what the site is all about, what it offers to its members, and is there any chance you might get in trouble using it.

WellHello Audience
The first thing you need to remember is that the site is made for adults, and the biggest part of its members are young men and women. Most of them come from the USA, but Canada, the UK, and European countries are well presented also.
The women to men ratio is 30 to 70 here, so girls have better options and choices on the site. The people of WellHello are friendly and chatty, so don't be shy to join the conversations and talk to other members. Everyone is here with a similar intention to have some great time.
Registration Process on WellHello
You need to register to browse the profiles on the site and see what it's about in general. As the platform was created for adults, there's no way unregistered users can see your profile. This is very important, as members of the site can be quite open in expressing their desires, and lots of photos here are explicit. So, registration is an important measure, as well as the paywall, to protect members of the site. Is wellhello.com safe? It is if you use it with a considerable measure of common sense.
The registration process is very simple, according to our Well Hello review. The whole procedure took us less than 5 minutes, and nothing complicated was involved. Basically, what you need to do is enter your email and password, confirm your age and zip code, select your gender or if you will be using the site as a couple, and click Join. The site will assign you some sort of nickname you can later change in your profile. There is no need to confirm your account via the email verification link right away; you can look around first and do it later when you decide to stay.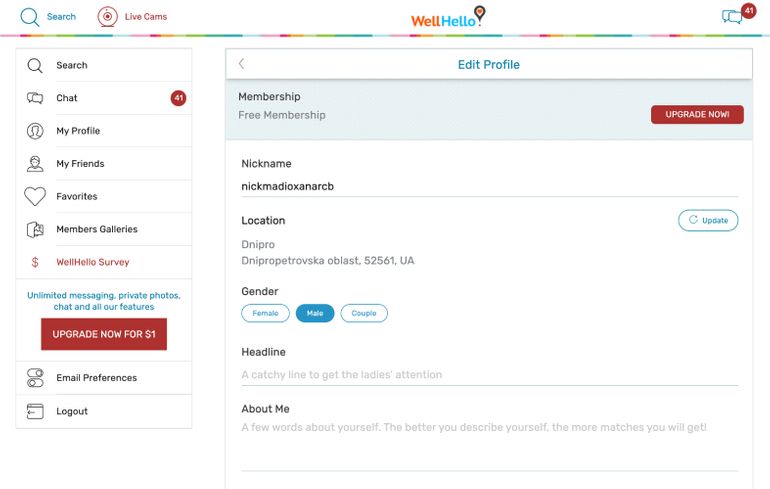 Design and Usability on WellHello
Every WellHello com review you will see online would place the site's design in the cons section. It is really not impressive compared to the monsters of the industry, but it serves the purpose well enough. It is uncluttered and easy to navigate, and no useless décor will hinder your user experience.
The layout is not overloaded with features, so you will easily find everything you want. The navigation bar on the left contains links to all important pages, i.e., your profile, friends, chats, search, and so on. Your active conversations are on the right side of the page, and floating notifications are making sure you don't miss any new messages.
From wellhello.com dating site reviews, you will learn you will not want to use it in the presence of prying eyes, as the site features some sexy photos on almost every page. They are fun to browse, but be careful to open the site in public places.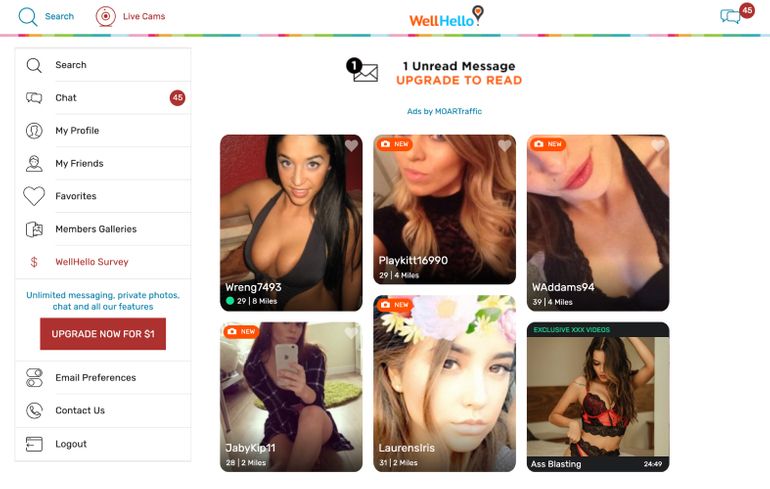 Pros and Cons
There Are no surprises; the site has its benefits and pitfalls as any other thing in the world. While its downsides and advantages are quite common for adult sites, let's look at them to get a better understanding of what to expect.
Pros:
Lots of adult content are available for free accounts

The registration process is simple and quick

The search feature allows you to look for dates within your location

People on the site are friendly and open-minded
Cons:
The design is something to work on

The paywall hides some features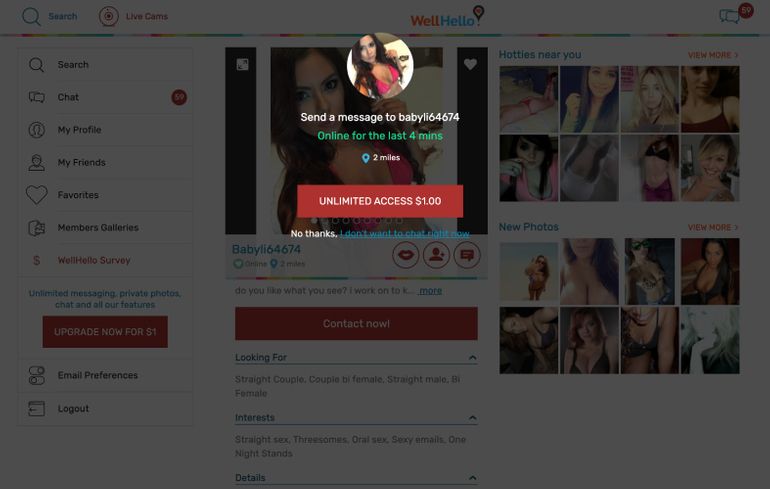 WellHello Features
Is wellhello.com a legitimate dating site? Well, it certainly looks like one and does not differ much from many other dating sites with just basic features. There's nothing to do except chat, watch live cam shows and galleries, and arrange dates. So, let's see what exactly the site offers to its members.
Local Search
The search feature on the site is made to help you find people in your area. Basically, you can only just specify the age and distance and then look through the offered profiles to see if someone sparks your interest.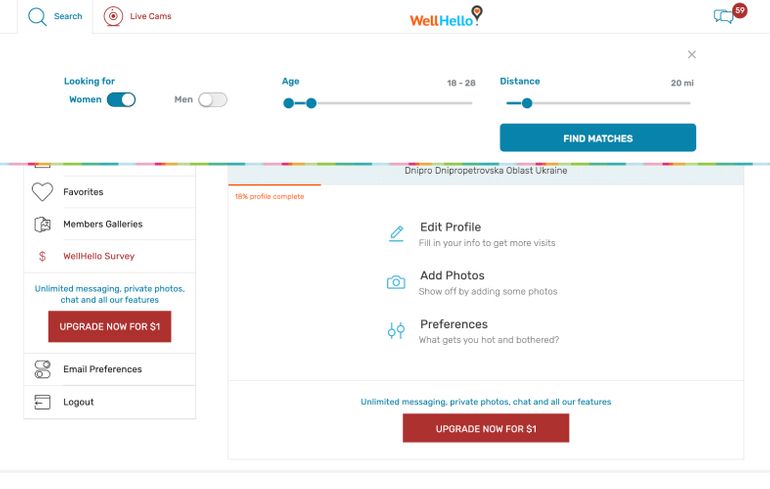 Live Cam
This is a paid feature. You can watch some adult shows from other users or launch your own. A nice feature to see on an adult dating site.
Members Galleries
Here, you may find a lot of enticing photos of other users.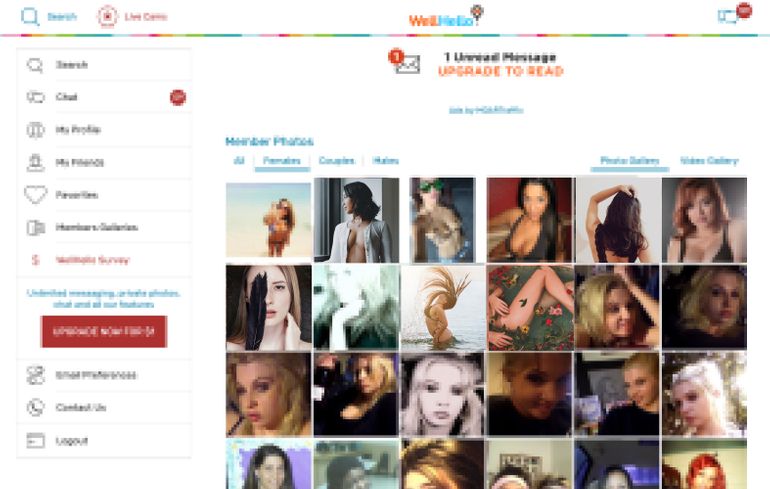 My Friends and Favorites
In these two tubs, all your favorite people from the site can be quickly found.
WellHello Pricing
First, you'll see the offer to upgrade for just $1 to unlock unlimited chatting and other features. This offer works like a 24-hour trial to look around and decide if you want to stay on the site for long. When you determine the site is a good place to be for you, you have the following options: a monthly plan for $24.95 or a 1-year plan for $7.45 per month.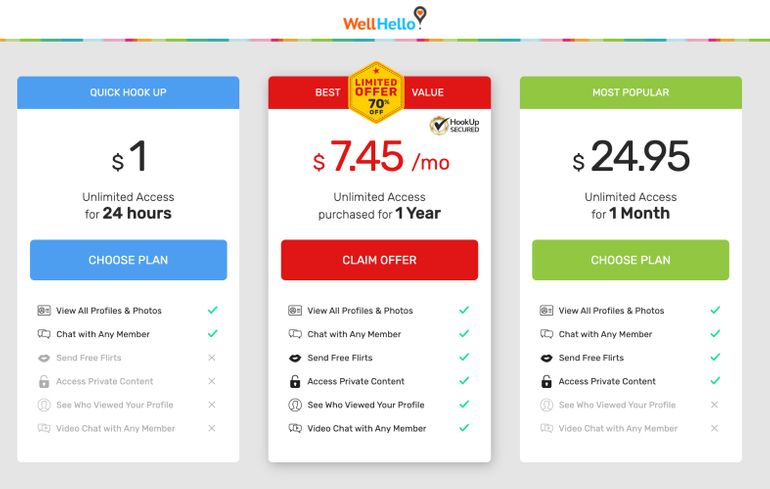 The site has average pricing, and with a trial available, it's impossible to fall into the paying-for-nothing trap, as you clearly see what you're paying for.
How WellHello works
You don't need to read many well hello reviews to understand how everything works here. The site is very simple and easy to understand. You register, make your profile engaging, add photos, and communicate with others. There is nothing to confuse you; the site is straightforward and clear.
WellHello Mobile App
The service offers a mobile application, though you won't find a detailed well hello app review. The reason is simple – the app works like the site and can't boast some exclusive features. The main difference is the app offers a swipe feature to browse the profiles, and the rest is quite similar to the site's working. It is available in the Google Play Store and some other stores selling Android apps. Our WellHello app review concluded that there's no option for iOS users to use the app so far, but it looks like the app is quite new, and we will see the iOS version very soon.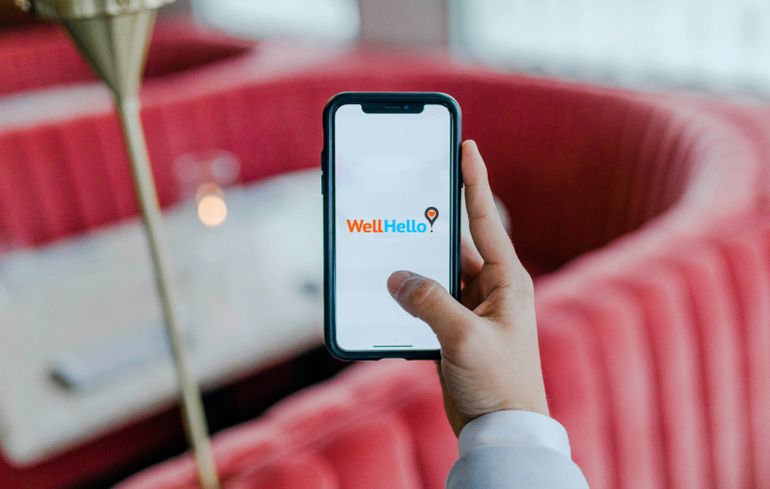 Privacy and Security on WellHello
Is Well Hello legit? Is it safe to use it? These questions arise every time you opt for a site made for adult fun. You need to remember that your safety is your concern in the first place. Before you join any site that requires even a minimum of your personal information, be sure to study the terms and conditions carefully to understand what you're signing up to. The site is not up to any fraudulent activity, and if you don't trust strangers with personal information, you will be fine. So, is wellhello com legit? It is. Will you be safe? It's up to you.
Conclusion
This WellHello review was made to help you decide whether the site is the right place for you. After going through its features, pros and cons, prices, and member base, you should be able to make a decision. If you want to have a place to satisfy your deepest sexual desires, try the site with a cheap trial and taste the waters. You don't lose anything after all.
F.A.Q
Is WellHello.com real or fake?
The site is just a platform for open-minded adults to connect and mingle. It only depends on you how to use it, as with any other tool online. There is something to entertain yourself with for sure, and if you are hesitating, there is an option to try it for just one dollar.
Is there an option to use WellHello for free?
The only thing you can do without paying is register, fill in your profile, use a search tool, and look around.
What payment methods are used on the site?
The site accepts payments via MasterCard and Visa.
Will the name of the site appear on my bill?
Like many other adult sites, WellHello protects its clients from any disclosure, so you won't see the site's name on your bill.
How can I delete my profile from WellHello?
In fact, you don't need to. If you decide you don't want to be displayed on the site, you may just change your profile to minimum info, delete all the photos, and let it be. If, for any reason, you want to erase it completely, send a letter to the support team on the site using the form in the Contact Us section, and they will fulfill your request.
Websites Like Well Hello